In 2021, the average person spent 142 minutes per day on social media. With social commerce, retailers have an opportunity to cash in on this audience and bounce back from the pandemic with a resilient digital strategy.
"Looking forward, in the US alone, annual sales through social commerce are expected to surge from approximately $37 billion in 2021 to $56 billion in 2023."


The Proven Potential of Social Commerce
Inspiration from the East
$56 billion is an impressive projection for the US market, but it pails in comparison to China. Social commerce, social shopping, and social retail dominated the Chinese e-commerce market pre-pandemic and generated an estimated $363 billion in 2021. The country's widespread adoption of social commerce is cited as a major market factor that protected Chinese retailers and manufacturers from pandemic-related demand volatility, which severely impacted their Western counterparts.


"To a certain extent, it seems that Chinese manufacturers have been preparing for this new reality for the past few years and have fast-tracked digitalization while employing direct-to-consumer strategies. Moving online has allowed many textile companies — including small-batch manufacturers from lower-tier cities — to capture the benefits of e-commerce while bypassing the middleman and arriving directly to the consumer."
The Retailisation of Social Media Platforms
TikTok
Tencent is cited as a major driver of China's social commerce along with Alibaba. Knowing this, it shouldn't come as a surprise that TikTok, Tencent's best-known product, has rigorously implemented new tools for businesses, influencers, and customers to engage in social commerce worldwide. Shopping live streams and shoppable links allow viewers to purchase advertised products with ease, and the company is investing heavily in making social commerce a pillar of the platform.


Source |
Forbes
Facebook & Instagram
Though Tencent and TikTok may be the most well-known now, they're not exactly founding figures - other large social media platforms in the West have been heavily involved in social commerce for several years. Facebook (now known as Meta), for example, is one of the largest social commerce platforms in terms of users and revenue, but unlike China, it wasn't big brands and influencers that started the Facebook social shopping craze. Taking heavy inspiration from television network shopping, consultants for multilevel marketing brands like Lululemon helped popularize the platform's social shopping capabilities in countries like the US and UK.


Source | Retail Wire

Meta's other social media platform Instagram was not far behind. Influencers largely have social commerce on Instagram to thank for making their profession so profitable; the ability to tag and sell products in posts, Stories, and live streams has turned what was once a hobby into an entire career for many. Instagram continuously upgrades its platform with new features that make it easier for brands and influencers to collaborate, not only for marketing activities but also as brand representatives who play a more substantial role in selling products.


Pinterest
For high fashion and design especially, Pinterest has established itself as a uniquely lucrative place. Pinterest users create dedicated boards for specific fashion, decor and aesthetic ideas, which often heavily feature content from online store catalogs and fashion shows. Up to 93% of users pin content featuring items they intend to purchase, so it didn't take long for the company to realize its natural potential for social retail and other forms of social commerce.
Landing pages for products are easily tagged within pins and their descriptions, which find their way onto thousands of boards. Buyable (a.k.a. "Shoppable") pins allow users to go from pin to purchase in just a few clicks, all without ever leaving the app. Pinterest also recently launched live shopping events; they're targeted mostly towards Gen Z, but older age groups would find their similarities to the QVC network uncanny.


Source |
TechCrunch
Definitions of Social Commerce, Social Shopping, and Social Retail
Social commerce, social shopping, social retail— these are all terms that have become common when discussing the "retailisation" of social media, especially post-pandemic. All three refer to e-commerce activities occurring on social media websites, but each has a different area of focus: the sellers, the shoppers, or the retailer respectively.

Some social media-based e-commerce activities aren't exclusively defined by one term. As a result, social commerce, social shopping and social retail are often used interchangeably. To make matters more confusing, their definitions continue to evolve along with the technology supporting them.

Knowing this, let's go over the terms:


What is social commerce?
Social commerce is the practice of using social media in e-commerce. It's best thought of as a sub-category of e-commerce, where social networks are used to buy and sell goods and services.

Social commerce refers mostly to the activities of individual sellers (e.g., influencers, multilevel marketers) rather than the companies producing the items they're selling. However, it is increasingly being used as an umbrella term for all social media-based e-commerce.


What is social shopping?
Social shopping is a form of e-commerce on social media and networks that focuses on the customers' activities rather than the seller. While it also connects sellers with buyers like social commerce does, social shopping seeks to connect customers with each other as they shop online as well. Interactive chatrooms on live shopping streams are a common example of social shopping.

Social buying is another term associated with social shopping, in which people are connected via social media as they purchase products. For example, people use social media messengers or communities to buy products in bulk as a group, share special discounts amongst each other, or communicate with each other about their purchases.


What is social retail?
In social retail, social media is used as a tool to develop social activity within an online or brick-and-mortar store. In this scenario, social channels are integrated into the entire shopping experience in order to enhance the customer journey and encourage more sales.

Unlike social commerce and social shopping, social retail focuses on companies rather than individual sellers and doesn't require any community between shoppers or an individual seller. A good example of social retail is the shoppable Pinterest links mentioned previously, but could also be as simple as a hashtag campaign for a retail brand on social media. AR and VR are quickly becoming the next big frontier of social retail, full of new opportunities that may change what typical social retail activities look like in the near future.



Making Social Media a Pillar of Your Retail Strategy - Benefits & Drawbacks
The benefits of social shopping
Source | John Schnobrich via Unsplash

1) It streamlines the e-commerce customer journey. Social media channels for digital retail are a one-stop shop for both the customer and the company. The customer enjoys a frictionless buying experience and ease of access to helpful content like reviews, advice, chatbots, and recommendations. In turn, the brand gets to increase awareness amongst its target audience on a large scale. This is bolstered by a plethora of social proof, authority, and trust-building content through an often pre-established global community. Even the simple implementation of a social media messenger chatbot can open access to a massive amount of new customers:


Source \ Big Commerce

2) It allows brands to connect with customers in an organic way. PPC advertising isn't just taking a hit from the iOS14 update and loss of third-party data - people are sick of digital advertising. Social shopping helps meet the same needs as traditional ads for retailers while sparing consumers and platform users from brand-generated social media marketing. It is straightforward about its intentions to sell, meaning brands must create genuinely interesting content for users. User-generated content and community posts provide an (often free) authentic online brand reputation along with further support from influencer marketing.

3) It taps into the social aspect of shopping that is fading away with brick and mortar. Social shopping is bringing back the shopping experience left behind in shopping malls. People crave socialization in their day-to-day lives - whether it's around a meal, on vacation with friends, or at work. Social commerce offers an opportunity for both customers and brands to connect under one roof yet on a global scale. Social media users and micro-influencers interact in these environments similar to friends and feel like shoppers as they make a purchase - not mere consumers.

4) It can be extremely cost-effective. Social commerce combines marketing and e-commerce endeavors into one. For businesses, this means projects and resources are less stretched out, less divided, and therefore more effective. This is especially true as PPC advertising continues to become more expensive, less data-centric, and less conglomerated onto a few select platforms like Facebook and Instagram.


Potential drawbacks of social shopping

1) It is less inherently appealing to male-oriented audiences. Men are less likely to buy a product without trying or seeing it in person. Therefore, men's apparel and accessory brands may need to create a digital method to make up for this lack of touch and feel. Luckily, this is not impossible - hyperactive digital environments like virtual and augmented reality will be especially promising as they develop in this regard. In the meanwhile, men's fashion retailers may want to emphasize visual, material, and other descriptive elements within their marketing and creatives to help consumers adequately imagine these senses.

2) It's not a standard framework. Social shopping initiatives can easily fall flat without a unique, and creative touch. Unlike ads and other forms of marketing, consumers are not obligated to engage with social shopping activities as a way to access free content - they have to be genuinely interested in doing so. Capturing this genuine interest is not necessarily difficult, but it requires a business to have a keen understanding of its consumers and opt for new, fresh ideas rather than tried-and-true formats.

3) Finding an audience is easy - retaining them is not. Socially-driven buying can be impulsive. As a result, it often does not lead to long-term changes in buying behavior. Therefore, retailers who integrate social shopping as a core component of their strategy also may need to prioritize customer loyalty initiatives long-term to bolster customer retention.

4) There is less control over the social discussion. Social e-commerce can be a fantastic tool to bring a business to a global audience, but proper etiquette is required to navigate this increased interaction between brands and users. Many retailers have negatively impacted their reputation by trying to control their image or the narrative around it online, for example, by deleting negative reviews and comments. It is important consumers feel like they are dictating the conversation within a brand's social commerce activities, so retailers may want to assume minimal involvement in this regard.



How to Create a Social Retail Strategy
Source | Scott Graham via Unsplash

It's undeniable that social commerce and social shopping have enormous profit potential in the new normal, but how does it work exactly? More importantly, why does it work? What is it that customers love so much about it?

The answer to all of these can be summarized into one simple idea: catering to your customers and connecting them with each other.


Obtain a firm understanding of where your audience is and how to reach them in order to use any form of social commerce effectively. But don't grab your customer personas or start looking at social media profile analytics just yet - the best strategies start with these absolutely last.
Check through all the major platforms and see whether your brand has an organic presence from customers. What about your brand or products are your customers presenting, how are they presenting them, and on which platforms? Which ones are performing the best, and getting the most engagement? Repeat this process for competitors and similar products.
Dive deep into these profiles to see what other trends, products, hashtags, or interests are being shared around your ideal social media audience. Ideally, you should view and potentially participate as a fellow audience member using a personal account.
Compare the content reviewed with your business goals and target audiences. Use points where they merge to determine which platform(s) to focus on, the best topics and formats, key figures for influencer marketing to consider, etc.
Refine your strategy to a few platforms, but don't combine them. Long gone are the days when everyone and everything is on Facebook. Whether it's Pinterest, Snapchat, TikTok, Instagram, YouTube, or others, each platform has differing demographics and different content, and your strategy will need to reflect this. For example, an influencer that generated impressive sales for your business on a Facebook live stream should not automatically be considered your best bet to do the same on TikTok.
Focus first and foremost on what you've determined users would like to engage with and how your business can deliver that rather than your business goals. As stated previously, social e-commerce differs from most digital marketing in regards to the extent you can pay to get users' attention. For optimal traction and growth, brands need to understand what will intrigue or entertain consumers when they shop and find a way to work business objectives into it - not the other way around.
Additional Tips for Social Commerce or Social Shopping Strategy
1) Dedicate staff. Consider hiring a dedicated team member for your social commerce endeavors. Additionally, consider hiring younger marketing professionals who are well-versed in its fast-changing trends and niche communities.

2) Experiment. Throw typical digital marketing methods out the window — or at least, set them aside. The audiences you're most likely to reach are digitally native and hyper-sensitive to traditional marketing; coming in with a traditional mindset is often a reputation-damaging mistake.

3) Use influencers. If you're working with limited knowledge or resources, start with influencer marketing. Influencers have established audiences on the platform for a reason — they know how to market themselves well and sell products in a trendy, native, and trustworthy way. Influencers often take the role of e-commerce consultants and often help extensively with the creative process. They can support your social commerce research by providing vital knowledge of the platform, its users, and how your brand can best reach its audiences.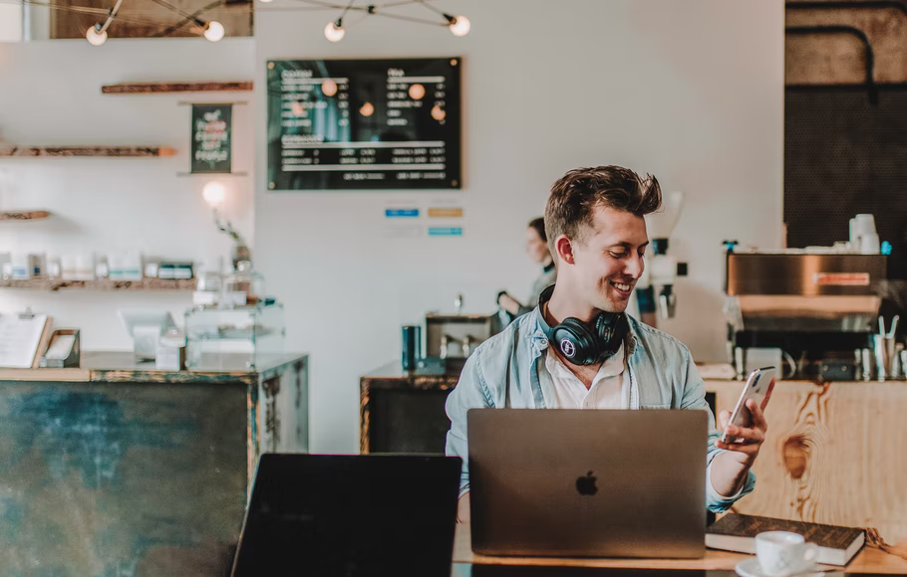 Source | Austin Diestel via
Unsplash
Conclusion
Social commerce is increasingly becoming an important part of the future retail experience. Social commerce, social shopping, and social retail strategies have been proven to be lucrative methods pre-pandemic and one could argue they'll be an integral necessity for e-commerce worldwide.

The most important element of successful social commerce is to see it as something more than social media marketing. It is a way to connect with customers, provide a social experience often lacking in e-Commerce, and streamline the customer journey. This means it's not a standardized or straightforward strategy and must be tailored to a brand, its customers, and the platforms they use. This opens up new opportunities to create a unique and resilient online presence that won't fade with passing trends.